" National Geograpic praised our midnight sun safari as one of ten best summer trips in 2014"

Henningsvær is located 200 km north of the polar circle. From the 23th of May the sun does not set. We depart from Henningsvær harbor in big rib boats and go west
Henningsvær is located 200 km north of the polar circle. From the 23th of May the sun does not set. We depart from Henningsvær harbor in big rib boats and go west through narrow fjords out to the Atlantic ocean. During the safari we look for sea eagles, puffins and grey seals. If we are lucky we also see whales.

Meet at our house in Henningsvær 22.00. We will provide you with wind and water proof floating suits and give a short briefing before the trip.

You will need:
Good shoes, sweater, wind jacket, hat, scarf and gloves. A water proof bag for the camera is also good to have.

Duration: 2,5-3 hours

For more information: WWW.LOFOTEN-OPPLEVELSER.NO
Show more
Book now - choose start date and product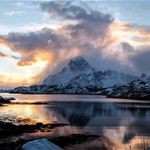 Rorbus and Seahouses
Distance: 11.6 km
Nyvågar Rorbuhotell is right in the middle of that special, quiet moment that you always long for, beautifully situated by the ocean, in Storvågan - 1 kilometer west of Kabelvåg and 6 kilometers west of Svolvær.
Rorbus and Seahouses
Distance: 12.9 km
Lofoten Rorbuferie is located at the pier in Kabelvåg. With boat rental and the ocean nearby (only 50 meter), makes this perfect for great fishing experiences.
Hotels
Distance: 118 meters
Welcome to Lofoten Arctic Hotel and Henningsvær Inn Lofoten Arctic Henningsvær Hotel is located by the bridge into Henningsvær in quiet surroundings on the quay. Here it is walking distance to the center of Henningsvær with only 900 meters. Henningsvær Vertshus is located right in the center of Henningsvær and close to good restaurants, shopping and bars