Norway's biggest collection of North Norwegian paintings from the Golden Age..
Over 100 unique works of art by, amongst others, Gunnar Berg, Even Ulving, Thorolf Holmboe, Ole Juul, Otto Sinding. Major exhibition of paintings by Karl Erik Harr, one of Norway's most celebrated pictorial artists.

See Frank A. Jenssen's multimedia masterpiece consisting of sounds from nature, music and images from Lofoten. The programme has been seen by over a million people and has been screened all over Europe. Screenings every hour, on the hour..

Openings hours 2016:

25.02-30.04: Daily 10.00-16.00
01.05-31.05: Daily 10.00-19.00
01.06-31.08: Daily 09.00-19.00
01.09-25.09: Daily 10.00-16.00


Welcome!
Show more
Book now - choose start date and product
Rorbus and Seahouses
Distance: 12.8 km
Statsbuene - Lofotferie is located at the pier in Kabelvåg. With boat rental and the ocean nearby (only 50 meter), makes this perfect for great fishing experiences.
Rorbus and Seahouses
Distance: 12.8 km
Tyskhella Rorbuferie is situated in the centre of Kabelvåg, overlooking the Vestfjord and Kabelvåg.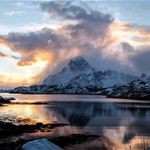 Rorbus and Seahouses
Distance: 11.4 km
Nyvågar Rorbuhotell is right in the middle of that special, quiet moment that you always long for, beautifully situated by the ocean, in Storvågan - 1 kilometer west of Kabelvåg and 6 kilometers west of Svolvær.