The Northern Lights or Aurora Borealis is an Arctic experience that brings joy and wonder from participants of all ages and experiences.
Up north in the Lofoten Islands, the sun's explosive behavior gives amazing performances from autumn through winter. More than once have I, along with other local people, been left with sore neck and mouth open, staring up at this ridiculous play of light up in the sky.

Our tours leave in the afternoons and evenings from autumn until mid-April. During summer time, there is too much light to see the Northern Lights, but from the last week of August, it starts to get darker and it becomes possible to see the Northern Lights again.

On our trips we go to areas where there is minimal interference from artificial light. In those areas, the Northern Lights reign alone. Often, we go with groups from 4 to 15 people for a trip lasting up to 3 hours. If you want to come with a larger group, we need more guides and some other equipment, but there is no problem for us to arrange this for you. On most of our tours, we go on snowshoes into the countryside to get both silence and as little 'artificial' light pollution as possible.

Our new activity is Chasing the Northern Lights! We use the Lofoten Islands and parts of Hinnøy to look for areas with clear skies and with Northern Lights.

Get ready for a magical evening, take an "afternoon rest" if needed, dress up warm and have your camera with manual photography and a tripod with you.

Pick-up service by the Tourist Information in Svolvær at 19:50. (Torget 18) After 26th of March 2016, the pick up is at 20:50. (summertime)
Show more
Book now - choose start date and product
| | | |
| --- | --- | --- |
| Unfortunately, there was no availability on the chosen date. | | |
About this activity
Phone number

Contact person email

Prices from
Rorbus and Seahouses
Distance: 2.2 km
Lofoten Rorbuferie is located at the pier in Kabelvåg. With boat rental and the ocean nearby (only 50 meter), makes this perfect for great fishing experiences.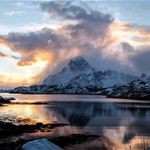 Rorbus and Seahouses
Distance: 1 km
Nyvågar Rorbuhotell is right in the middle of that special, quiet moment that you always long for, beautifully situated by the ocean, in Storvågan - 1 kilometer west of Kabelvåg and 6 kilometers west of Svolvær.
Rorbus and Seahouses
Distance: 1.9 km
Tyskhella Rorbuferie is situated in the centre of Kabelvåg, overlooking the Vestfjord and Kabelvåg.