The north of Norway is the kingdom to the sea eagle. We have the biggest concentration of sea eagles in the whole world. There are several couples with their own territories in the area around Henningsvær. We take you out in big rib boats, giving you an intima
The north of Norway is the kingdom to the sea eagle. We have the biggest concentration of sea eagles in the whole world. There are several couples with their own territories in the area around Henningsvær. We take you out in big rib boats, giving you an intimate experience with nature and wildlife. If the weather allows we will visit a colony of grey seals. The grey seals can weigh more than 300 kilos and be up to 3 meters long. If we are lucky we can see minki whales, porpoises and killer whales. We also enjoy the spectacular landscape and Vågakallen, one of the highest mountains in Lofoten and tell you about the renowned cod fishery.

Meet at our house in Henningsvær 14.30. We will provide you with wind and water proof floating suits and give a short briefing before the trip.

You will need:
Good shoes, sweater, wind jacket, hat, scarf and gloves. A water proof bag for the camera is also good to have.

Duration: 1,5 hours.

For more information: WWW.LOFOTEN-OPPLEVELSER.NO
Show more
Book now - choose start date and product
Hotels
Distance: 125 meters
Welcome to Lofoten Arctic Hotel and Henningsvær Inn Lofoten Arctic Henningsvær Hotel is located by the bridge into Henningsvær in quiet surroundings on the quay. Here it is walking distance to the center of Henningsvær with only 900 meters. Henningsvær Vertshus is located right in the center of Henningsvær and close to good restaurants, shopping and bars
Rorbus and Seahouses
Distance: 12.9 km
Lofoten Rorbuferie is located at the pier in Kabelvåg. With boat rental and the ocean nearby (only 50 meter), makes this perfect for great fishing experiences.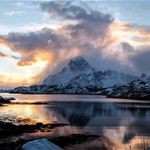 Rorbus and Seahouses
Distance: 11.5 km
Nyvågar Rorbuhotell is right in the middle of that special, quiet moment that you always long for, beautifully situated by the ocean, in Storvågan - 1 kilometer west of Kabelvåg and 6 kilometers west of Svolvær.