Magical lights from on horseback!
Hov is on the outside of Lofoten facing north and the midnight sun. From May - August we offer horseback rides at night under the magical light of the midnight sun!
Hov is on the outside of Lofoten facing north and the midnight sun. From May until August we offer horseback rides under the magical light at midnight. We ride on the white beaches and experience the beautiful countryside on horseback. On most of our tours we can see eagles and other seabird, and even you could meet the Orca (killer whale) if you are lucky. It's a special experience to be out in the arctic nature at midnight, we think its magical. We visit Hovshula where we are served a hot drink at midnight.

When: May to August, 22.00 - 00.00
Who: Beginners and experienced riders, individuals or groups
Price: NOK 950, – per / pers. Min. 2 participants
Duration: about 2 hours

The following applies to all tours:
The above prices include free use of riding boots, helmets and outer garments. The tours can be cancelled due to bad weather conditions, we put safety first. In the event of unfavorable weather conditions the tour will be re-booked to another time or day to suit you.

Read about our terms and conditions here: http://hovhestegard.no/terms-and-conditions/?lang=en
Show more
Book now - choose start date and product
Cabins
Distance: 771 meters
We have two different types of lodges. Our Luxury standard has ensuite bathrooms to hotel standard with each room, whilst our deluxe standard have a shared bathroom. All lodges have a living room with a fireplace, kitchen and an outside terrasse with a spectacular view to the north and open sea. They are beautifully situated by Hov Beach just 1 km from Lofoten Links.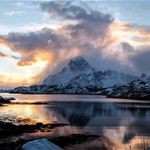 Rorbus and Seahouses
Distance: 20.4 km
Nyvågar Rorbuhotell is right in the middle of that special, quiet moment that you always long for, beautifully situated by the ocean, in Storvågan - 1 kilometer west of Kabelvåg and 6 kilometers west of Svolvær.
Room
Distance: 771 meters
We offer accommodation in Lodges by Hov Beach (1 km from Lofoten Links) and 3 simpler apartments and one standard cabin by the golf course itself.