Here you can buy a map of Lofoten which covers the region from Raftsundet in north east to Skomvær in south west. In this map you will find recommended hiking trails in the Lofoten Islands and touristic sights. Information about the region is given in English,
The map is published by Nordeca and is printed on a plastic fibre material which makes it waterproof and you can't tear it. For full day hikes we recommend the maps in scale 1:50 000.
The map will be sent to you by mail.
Show more
Book now - choose start date and product
Rorbus and Seahouses
Distance: 31.6 km
In the very heart of Svolvar harbour you will find Anker Brygge a traditional facility with well equipped rorbuer and suites, a gourmet restaurant and bar.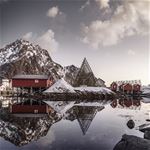 Rorbus and Seahouses
Distance: 31.4 km
Svinøya Rorbuer is centrally situated in Svolvær harbour.
Rorbus and Seahouses
Distance: 9.9 km
Risvær is located on two islands in the archipelago Svellingsflaket and is shared by the idyllic channel Risværkjeila, often reffered to as Lofoten's Blindleia. The islands are car-free and have approx. 45 holiday homes and cottages. Risvær is cozy and picturesque blessed with calm and nice weather, and has a stunning view of the Vestfjord, the Lofoten mountains and Hamarøy in the horizon. Risvær is a great base point for kayaking, fishing, mountain hiking and other activities in the eastern part of Lofoten. The archipelago with its 365 islands is a great area in safe waters that is worth exploring.